Dear Ivy,
I'm moving into a new apartment, and I'm currently deciding what to sell and what to keep. I've been feeling a bit uninspired and want to switch up the look without investing in too many new pieces. Many of the pieces I currently have are a bit minimalist, and I'm looking to bring some color, texture, and fun into the mix to stay inspired.
Here's what I have to keep:
Snake Plant and plant stand like this
A TV that I would like to mount (even if it is a bit of an eyesore in a bedroom...in true NYC fashion, I have a roommate, and I want to have the option of watching TV by myself sometimes!)
Here's what I need to source:
Headboard or Bed
Bedding (currently I have all white everything...okay with keeping this but also open to new bedding)
Wallpaper (thinking this could be fun to incorporate somewhere!)
Hanging planter (I have a philodendron that's kinda grown rogue, and I feel like it could be cute hanging??)
A vertical bookcase/shelf/stand if I don't keep the desk
Art - I'm thinking of purchasing a "real" piece of art, but I don't know where to start!
Looking forward to seeing what you come up with!
-Anne in NYC
The Plan
Floor Plan: The Inside
Hi Anne,
So exciting! Congrats on the move. I took a stab at your floor plan. According feng shui principles, you always want walk into the bed; it should never be aligned with the doorway. By placing a queen bed along this wall, you will have enough room to keep both your existing desk and nightstand.

In order to maximize your clothing storage (something we all need to do in the city) and add some visual interest, I recommend taking down your closet door and replacing it with ripple-fold drapery. This layer will add softness and color, while still providing function. Our friends at The Shade Store make it really easy to customize for size and style. I would also suggest removing the basic hang bar and weird shelves in the closet to create an inspired dressing area - a great moment for wallpaper! Here's the plan for the closet:
1. Patch any holes and prime walls for wallpaper. I recommend this all-in-one primer.
2. Install removable wallpaper for that "fun" moment. Given your vibe, I think Deep Blue Sperduti could work really well. Terrazzo is so cute, and this paper can be peeled off when your lease is up.
3. Source a simple and modern dresser (like the Malm from Ikea) that fits into the closet niche. This will not only offer great storage, but it will also provide a surface for a tray to hold jewelry, make-up, etc.
4. Install a new hanging bar that is beyond basic. I recommend bringing in metal here, like this polished chrome.
5. Only use matching (and chic) hangers. I LOVE these acrylic ones! They will provide an unmatched level of organization and style. You'll never look back at your old ways. I guarantee it.
What to Buy: The Bookshelf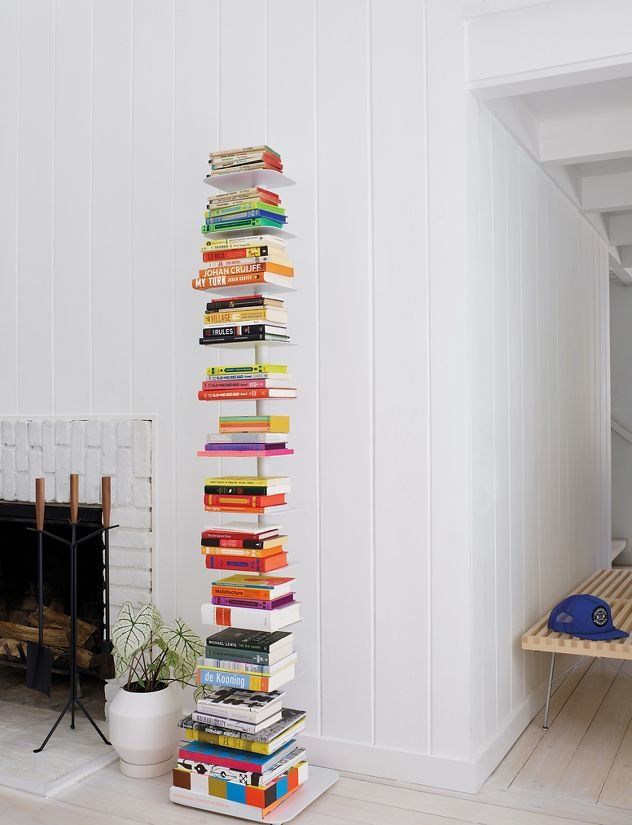 The Story Bookcase from Design Within Reach
The Story Bookcase from Design Within Reach is the perfect urban bookshelf because it's vertical. It doesn't take up much floor space at a mere 15.75" x 15.75" but can hold up to 77 pounds of books! Your book selection will add a variety of color to the room, and this organized format will surely reduce clutter.
What to Buy: The Bed
Ocean Velvet Modern Wingback Bed from The Inside
Since you'll be setting up a desk next to your bed, I'd recommend a more substantial bed; you don't want the bed to compete with the desk or sit too low next to it. I love this option because it has wings, creating separation between your work space and place of rest. Given what you already own, I would recommend this Ocean Blue. It pairs beautifully with the black while bringing a pop of color and lightness to the room.
What to Buy: The Bedding
Luxe Hardcore Sheet Bundle from Brooklinen
I would say: keep your existing bedding, or make an upgrade in quality. All white is the way to go with the bed I recommended. You could always spruce up your white bedding with some fun throw pillows later. We love the bedding from Brooklinen!
What to Buy: The Artwork
Artwork: Fong Min Liao
Buying "real" art is a big deal. Sometimes it's a bit intimidating, so I recommend starting small. Find an artist who you absolutely love, and see if their work comes in a smaller size or a more affordable medium. For example, the Los Angeles-based Fong Min Liao offers serigraphs of her work for $349. Since this will be a small piece, I recommend hanging it in a very intentional way where it won't get lost. Try it above your bedside table.
Good luck with the move, and please update us with photos when you're all set up! We'd love to see how it turns out.
-Ivy